Kirishima City is located in the middle of Kagoshima Prefecture. In the north lie the picturesque Kirishima Mountains a famous National Park. In the south there is a fertile plain, adjoining Kinko Bay and overlooking majestic Mt. Sakurajima. The clear, rich Amori River rises in the Kirishima Mountains and flows through the countryside into the sea. The City has also a great number of hot springs from the foot of mountains to the plain.
Kagoshima National College of Technology (KNCT) is located in Hayato Cho(Hayato Town) near Sakurajima, the famous active volcano to the south, and the picturesque Kirishima mountains to the north. Historically, this area is famous for its fearless warriors, the Kumaso Zoku (Kumaso Tribe) and Hayato Zoku (Hayato Tribe), who both fought against the aggression of the Yamato lmperial Court during the 4th and 5th centuries. In the early 8th century, however, the area came under Yamato rule, and in the 12th century was governed by the Shimazu clan. Shimazu Yoshihisa, brother of Yoshihiro, hero of Sekigahara and the sixteenth Shimazu Lord, is said to have built his castle in this area in preparation for Toyotomi Hideyoshi's attack on Shimazu territory in the 16th century.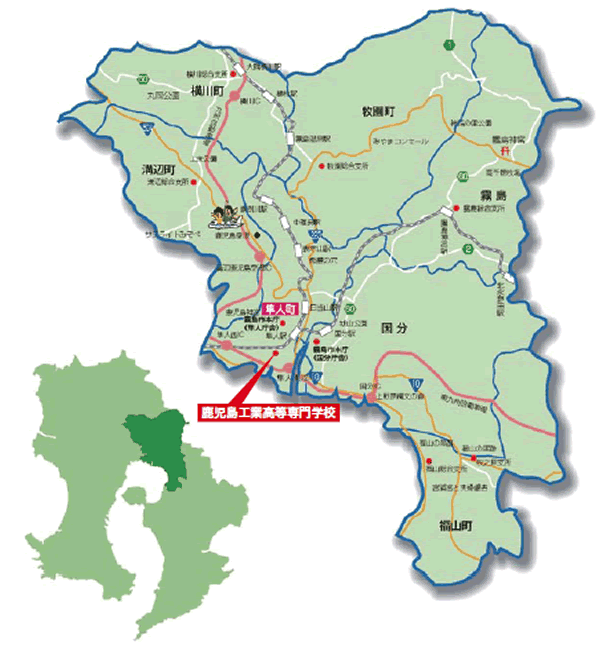 The Horse Dancing Festival
(Dance of Horses Decorated with Bells)
The Horse Dancing Festival is held at the Kagoshima Shrine on Sunday close to January 18 (in the lunar calendar).
This festival has its origin in the fact that people reported how horses were growing to the God of the shrine.

The Hayato Mound
(Nationally Designated Cultural Property)
It is said that the Hayato Mound was built to propitiate the souls of the Kumaso subjugated by Emperor Keiko. It was designated as important cultural property in the 10th year of the Taisho Era (1921).